About Us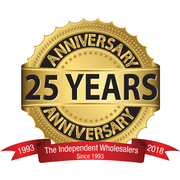 A family owned and operated business since 1993, G & L Wholesalers prides itself on customer service and satisfaction. We are a 100% Australian Owned Company.
In its first year G & L Wholesalers became Distributors for several companies, distributing quality gate & fence fittings, fasteners, garden products, hardware products, automotive products, service station products, pet products and more.
From there the business grew rapidly to meet the demands of our customers. Our strength in growing successfully was our promise to our customers to abide by our motto:
"If we don't stock an item, but we can access it & provide it at a competitive rate, we will get it in for you."
This proved very successful for us. G&L Wholesalers is now one of Australia's Largest Independent Wholesalers. We now stock and distribute all around Australia over 6000 lines into Hardware Stores, Auto Stores, Landscaping Stores, Fencing Stores, Building Outlets, Pet Outlets & Service Stations. We source products that are locally made and we also have imported products. We are always looking for more products to add to our range to provide our customers with the best competitive prices. If you have end of line stock, overstocked items or you need to convert old stock into dollars we can help you. Call us today and speak to one of our friendly staff.
G&L Wholesalers is an authorised supplier to Major Chains in Hardware & Service Stations, such as HBT Group, H Hardware, ITT Industrial & Metro Petroleum. We also supply products to Mitre 10 Warehouse and Mitre 10 stores directly. Our products can also be found in Magnet Mart, Selected Home Hardwares, Independant Hardware Stores, Auto Stores, & Service Staions
We are proud to be associated with some of Australia's largest suppliers.